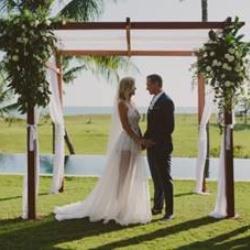 We Put Together A Last Minute Bali Wedding In Just 3 Months!
This month's blog features what we consider a last minute wedding in terms of planning and putting everything together. Our gorgeous and fun loving couple Meg and Jamie only engaged us as their wedding planners in June – just three months before their big day in September 2016.

We had a meeting with them in Sydney and as their first choice of venue had fallen through Sungai Tinggi Beach Villa, on Bali's south-west coast, was quickly secured as the venue. The ceremony was to be held at the immaculately landscaped gardens and the expansive coconut grove was transformed for the stunning reception.
For Meg and Jamie, the focus was always on ensuring the reception was a relaxed party, with great food, plenty of delicious drinks, great music and dancing.
Gaye worked closely with them right up until the day before the wedding to bring their vision to life with amazing table settings and key styling and lighting pieces spread over several chill out zones for the after-dinner party.
The delicious food, including an Indonesian buffet, was served by the awesome Bali Catering Company who were very busy behind the bar creating free flow cocktails.
The couple's friends Beck Rocchi and Mike worked their magic to produce some incredible shots capturing the love and joy of the day and night.
Guests were entertained over cocktails by the cool Iwanouz and later by the high-energy Bongo Boys water and light show before dancing the night away to DJ beats and the smooth sounds of Turah's saxophone playing.
A special highlight of the day was the convoy of VW's that transported the guests to and from the venue.
We were so delighted Meg and Jamie had a fantastic day and trusted us with their arrangements as both being in the event industry themselves we wanted to ensure they could relax and have the "best day ever".
Some of our awesome stories...