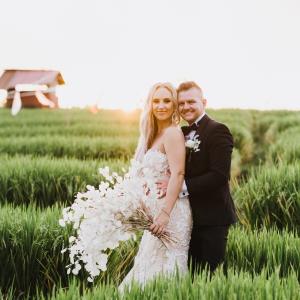 Jennifer And Andrew
Before we dive deep into the wedding, for those reading along, can you tell us a little about yourself and Andrew? How did you both meet and how long have you been together?
Andrew and I had only been dating for 4 months before we got engaged! We had been acquaintances for years but our romance started one night on the dancefloor in a club in Port Elizabeth, a town just off the coast of South Africa. He was there for work and I was there on holiday with a friend. Andrew works for a car brand and does a lot of customer driving experiences across South Africa. They go to open locations and set up skid pans where they take passengers in their sports cars for a spin, for example. This is where I bumped into him. In front of the beach next to a carnival, they had a massive, empty parking lot where you could hear the tires screeching and people cheering. Eager to show my friend what all the hype was about, we walked over and greeted the drivers which I knew. They offered us a ride and my friend and I each jumped into separate cars – I, of course, jumped into Andy's car.
A few nights later, the night before New Year's Eve, we ended up at the same nightclub in the sweltering heat (think small, local Latino bar in Puerto Rico with Salsa music playing and people jammed onto the dance floor). This club only had a few small fans blowing and you could smell the sea from across the road. It was so hot and humid that everyone was outside on the balcony. The music was incredible that night and eventually, no one could resist embracing the heat.
Now we never knew much about one other, we had merely met in passing a few times. So he never knew that I used to be a dancer. He himself has such a natural talent that he should have been one! I was standing outside on the balcony and he was inside at the bar later that evening. A popular song came on and he hits the semi-crowed dancefloor. To his surprise, I come dancing towards him. His eyes lit up and he had finally found someone to dance with into the early hours of the morning. At 3 am, completely wet from the heat looking like we jumped in a pool with all our clothes on, the lights came on and they were trying to kick everyone out. My hair was drenched and tied up, his baby blue t-shirt was now a completely different blue and today we both agree that we celebrated New Year a day early that year.
A few months later we started dating and in December that year, we got engaged. The year had started by being the best New Year's I had ever had, and ended up being the best Christmas too.
We always love hearing a good proposal story. How did Andrew propose?
After dating for two or so months we decided that we should have a white Christmas and go explore the world since Africa was hot and dry and we wanted to go somewhere completely the opposite. I wanted to go and see the "real" Santa Clause in Lapland and he wanted to go snowboarding, so we planned a two-week road trip through Sweden up to Finland. We road reindeer, went husky sledding, stayed in an ice hotel, drove snowmobiles in a snow blizzard, sat on Santa's lap in Lapland on Christmas day and I tried to learn how to use the ski lift – never mind snowboard for the first time ever! But we were really chasing the Northern Lights. A few nights after Christmas, we drove to the top of a ski slope in Levi to scout for them. It was -28 degrees that night! The coldest I had ever been in my life. We parked the car, turned on the seat warmers in our rented VW Golf, and waited. We must have been waiting for about an hour and Andrew decides to take a nap while I keep watching. I watch the snowfall and the skiers walk around like the cold doesn't affect them, when behind me a see green lights moving across the sky. I begin laughing and wake him up to tell him that he parked the car the wrong way round. The lights were behind us.
Out we jump, Gimble, Garmin and mittens on hands and trek through the snow to the top of the ski slope. It was very quiet, only a few people in the distance. We marvel at the bright green lights moving across a pitch-black night's sky. We are both trying to capture the moment with our phones and cameras but it is more difficult than what you would think. After a couple of minutes, the cold is starting to hit my bones and I want to go back to the car and warm up. When I get back he is still standing there trying to get the money shot - playing with shutter speeds and things that I know nothing about. He asks me to go and stand in front of the camera so that he can get a pic of me under the Lights. He soon joins me so we can take a picture together.
It was then that he got down on one knee, in the icy snow and proposed. I remember that both of our jaws were chattering and I was tremendously worried about him losing his knee. But he manned it out and said the most heartfelt proposal that I had ever heard. I told him "In a thousand lifetimes, yes! I would cry but my tears are frozen." We had a look at the picture that he took using a time-lapse – agreed that it was good enough and went to celebrate at a local bar in the village.
Why did you love the idea of a destination wedding?
Our proposal had been such a fairy tale and the best trip that either of us had ever taken, so we wanted our marriage to be an adventure too. We wanted our guests to share not only our marriage ceremony but also a glance into our life and how we are as a couple. It was also a nice way for the most important people in our lives to get to know each other and have a bit of a holiday too.
Why Bali? What attracted you to this destination in particular?
Both Andrew and myself are more spiritual than religious, even though we come from different religious backgrounds – He is Christian and I am Jewish. We wanted to go somewhere that has good energy, where the people are down to earth and a place that hasn't been tainted by the modern world too much. We wanted to go somewhere that has a tropical climate, has strong cultural beliefs, and a lot for tourists to experience and explore – not to mention affordable. Bali was honestly a no-brainer. It ticked every box and it was a safe country. It was on the opposite side of the world for us, but that was just part of our adventure..
Wedding Design
What was the inspiration for your wedding design? What kind of feeling did you want your wedding to have?
Being in Bali, I wanted it to be a relaxed, non-traditional, tropical party that still had the class and elegance of a traditional wedding. In my head, I wanted to create an OTT (over the top) pool party. Something more formal than a BBQ but all the fun of a normal pool party. It needed to be light-hearted, it needed to be relaxed, it needed to be crazy and fun but it still needed to be our wedding. It needed it to be a performance. I wanted it to be something people looked back on and thought "Wow, that was an experience!" So we mashed all of that up together, polished a few finer details and we got exactly what we had envisaged.
Big extravagant weddings were my inspiration and what we did was take elements from them and apply them to our villa wedding. Our reception and ceremony decor were quite formal but the speeches, dancing, and flow of the wedding, was very relaxed. The villa itself was what I would refer to as the "perfect party villa". So that really added to the mixture of décor and fun. The reception was right next to the pool so it had a very tropical vibe to it.
Personal Styling
What can you tell us about Your Wedding dress/es
I had two dresses! I couldn't decide which one I liked more so I just got them both because they were so different from one another. I was going to wear both on our wedding day but at the last minute decided that I would wear one to our rehearsal dinner ay Finns VIP and the other on our wedding day.
My first dress was a fitted trumpet style dress with a sweetheart neckline that was fully beaded with white beads and embroidery and had a blush pink satin lining. It had that "Bali Boho" feel (beaded armbands and all) yet it was classy and elegant.
My second dress was anything but traditional. It was a corset, sweetheart dress that flared out from the knees. It had off white tropical patterned lace over light peach-colored layers of material (They called it Rose Gold). It was from designer Vonve' and has hand-beaded crystals on the corset. I also had a matching veil that was nearly as long as my train. The color was honestly perfect for our Bali villa wedding and matched the tropical green paddy fields perfectly. The color made it feel informal yet was still a wedding dress. It was a great find for our Bali wedding.
Hair and Makeup
Ranny Bronzer did my hair and make-up because I had very strict and specific instructions of what I wanted to be achieved. I did not want natural-looking make-up that I could do myself. I wanted to contour, airbrushing, bold make-up - I wanted to look better than I normally do on a day to day basis but found that wedding make-up was light and "all-natural". So I looked high and low and for make-up artists in Bali, investigating many Instagram portfolios for a glimmer of hope, but no luck. The artists that I wanted were not close enough to our wedding venue. Some were on the other side of the island and others in Jakarta and that would cost a fortune to fly them to us.
So needless to say, Kylie and I had many conversations regarding this as the worst thing that can happen is that you are not happy with your hair and make-up on the day of your wedding! I sent Kylie picture after picture of the look I wanted and she said that Ranny was the best at doing what I wanted.
When you have a destination wedding and are living on the other side of the world, there is a lot of trust that you have to put in your planner. You have to trust that she knows the game better than you and that her experience makes her judgement call on vendors the best call. It's a tough one, which is why you have to make sure that you have an excellent planner. I feel now that researching your wedding planner is probably more important than researching your vendors. At the end of the day, if you haven't tasted it, seen it, or experienced it, you can make the wrong call.
My make-up was done perfectly! I was so happy with the result. My hair was a bit more of a challenge due to the heat and humidity. It went straight very soon after the ceremony. As Murphy would have it, we got married on the hottest day that we were there! And when you are in a wedding dress, getting married outside in the garden, have hair extensions for days and insist that your hair be down and curled.. well honey, good luck! Don't worry about spending money on that trial, spend the money on keeping your MUA around to do touch-ups!! Those pictures are all you have left after the wedding.
Bridesmaids dresses
My Bridesmaids wore simple, flowing, almost Grecian styled dresses with a corset bodice. They were simple, elegant and so flattering. I chose black so that they would match the Groomsmen and stand out against the greenery of the villa. They were also strapless and light which was comfortable and cool for them to wear all night.
Any specific jewelry you wore – anything to note about your gorgeous wedding ring?
So I had an issue, I had this vision in my head of what my Bridesmaids needed to look like, but I couldn't find the big, emerald green, chandelier earrings that I wanted, anywhere! So I eventually decided to scout online for them. It took me a while but two weeks before we left for the wedding, I found them! BUT they were from SERBIA!! Serbia.. my nerves. So I came up with a plan to ship them to the UK where their postal service is far better than ours and pray that they reached one of our guests before he left for Bali. It was a risk, and I definitely paid for it, but I got them and they honestly made their outfit. Have a look if you like extravagant and completely over the top earrings – but it works if you are wearing a simplistic dress. www.helenadia.com
I also got 3 different pairs for myself to see which one's I liked the most. I feel like they added a bit of pizzazz to my look. They were large diamante hoops that were in a floral design.
Andrew's outfit/look
The guys wanted to look the best they could. So despite the heat and despite the fact that it was a non-traditional wedding in a garden next to a paddy field, they wanted to wear tuxes. Three-piece, black tux with white cotton shirts. We just agreed that they could change after dinner into shorts and linen shirts, but for the ceremony, they had to hold it together. And they did, with no regrets. In a few years, they will forget all about the liters of fluid they lost that day.
Andrew's entourage 😊
We loved that Andrew had his friends dance their way down the aisle – we'd love to hear how this idea came to life!
Haha , his entourage!! So Andy has three close friends that he grew up with. One was his Best Man and the other two share his love for dancing. They are complete hooligans, full of laughs and their own inside jokes – and of course, dance moves. We actually had to have them at the wedding because all of them together bring that happy vibe.
As I said before, we wanted our wedding to be entertaining. We wanted to put on a show so that our guests were never bored. Originally, Andy wanted me to dance down the aisle to "Dear Future Husband" but I had a change of heart and gave him the honors. He decided that he would set the scene and perform the opening act. So he and his Best Man and Brother, as well as his two childhood friends, suavely melted down the aisle like a boy band, this South African version of the Backstreet Boys, to "In the Still of the Night" by Boyz to Men. Andy and his childhood friends together really bring the happy vibe to the party and where it was something that was a big part of who they are and we really wanted to include it at our wedding.
Photography & Videography:
You decided on two different pre-wedding shoots – tell us about the two different shoots that you did.
Once we chose Bali as a destination and we chose our villa, I began scouring the internet for the best of the best in wedding photography and videography. One thing that I was going to spend the budget on was our photographers and videographers as to us, they are your memories. So I looked at many websites that gave recommendations of photographers and discovered Bali Pixtura. But part of their services offered is pre-wedding shoots. I saw this one image of a girl in a red dress and I had to have it! The next thing, I am planning a pre-wedding shoot into the budget and schedule.
The second shoot was unplanned and I actually found it by chance. But I saw these images and thought "I just need one or two of these, I'm sure we have the time to squeeze this in." Well no, no we didn't, but I was determined so we did.
It was a shoot in traditional Balinese attire taken in a style that is more posed and edited rather than natural and candid. I did get my few photos that I wanted but I was very determined to squeeze it into our schedule, maybe a little too determined. We ended up squeezing it in straight from a night out in Seminyak. We had to shoot at sunrise and that meant a 3:30 AM pick up from our villa. After an all-nighter of drinking and dancing – we got back to the villa at 3 AM, got straight in a van to a location 30 mins away to do hair and make-up, and arrived at the Art Centre by 6 AM. We shot for maybe an hour and a half and I had to call it short. Andrew was falling asleep on his feet and the photographer kept shouting "Open your eyes, open your eyes!" in his accent at us. We laugh now but it was traumatic. Especially when you are getting married the next day and still have a rehearsal dinner to get to that evening. It's a great experience and the pictures are very unique but if you are going to only be in Bali a few days for your wedding, rather stay an extra day to fit it in or plan another trip. My husband would still rather be at that club, lol!
What are your two most favorite photos from your Bali Pixtura shoot?
Wow we captured a couple of stunners but these two are probably the best:
Tell us what you loved about your wedding day photography – any favorite photos?
Bali Pixtura is really talented in capturing those candid moments – someone's reaction or facial expression. They also don't interfere with the proceedings. I actually forgot that they were there most of the time! And they are fast! Family pictures were literally done within twenty minutes. My best are these:
Tell us what you loved about your wedding videography?
Towards the end of our planning, I was actually considering canceling our videographer due to our budget but Andrew insisted that we keep them, and I am so glad that we did! Nothing captures the essence of the day like your video does. Honestly, it's something that we will cherish forever. It just captures so much more than photographs could – your vows, what was happening whilst the girls are getting dressed, the boys dancing down the aisle – everything that you might have missed. If you are indecisive about it, please take my advice and include it in your budget. You will NEVER regret it. And if you can't afford it, try and ask someone to gift it to you. It will be one of the most cherished things at your wedding.
When we saw the "sneak peek" as they call it (the shorter version/ highlights) we both cried. We can't wait to see the full version.
Pre-Wedding Events
What did you love about arranging the pre-wedding events? Did your guests like both the different experiences – La Favella and Finns VIP?
So we had a wedding week rather than just a day. We wanted our guests to come along our journey with us and explore the party side of Bali. La Favella was the club that we had booked drinks and snacks at one evening so our guests could see Seminyak and get a feel for the nightlife – and if you have a party crowd then let me tell you it was amazing!! The food was unbelievable – our guests still rave about it today and my husband wants to go back to Bali just so that we can dance at that club until it closes. The music, the décor, the vibe, the food totally blew my expectations. I just wish we had more time so we could have gone back again after the wedding.
I then also wanted them to experience a beach club and you don't get more iconic that Finn's. We turned this into our rehearsal dinner and had drinks and dinner at Sunset at Finn's VIP. My only issue was that my photographers weren't allowed to use a flash and they weren't allowed to get anyone else in the photographs that weren't from our party. So that restricted them a bit and the lighting in some pics aren't ideal.
But the food was incredible, the view was perfect and the venue is beautiful. Again we wanted to go back during the day to spend time at the beach club but we never had enough time. So if you are planning some excursions – plan a day here! It was a nice relaxing evening with good food and company and was perfect for the night before the wedding.
Ceremony
You had your ceremony at Villa Mana, when you were walking down the stairs and then your aisle and standing in front of Andrew did you feel like it was everything you had hoped for?
When you walk down that aisle, you don't care about anything that is happening around you. I only saw Andrew and in my head it was just him and I standing there. But I do remember walking down to the staircase thinking "Kylie has this, I have nothing to worry about"
I was so happy with everything up to that point, I felt nervous and tearful but I felt the most beautiful I ever have and I was just so excited to see Andrew and his reaction. I couldn't believe that all the months of planning had come down to that exact moment. It was overwhelming but once I saw him, all of those emotions faded and the excitement set in.
How did it feel waking up in Villa Mana on the morning of your wedding day? What was the first feeling or thought you remember having!
It was such an emotional day for me! I honestly think from the moment I opened my eyes I started crying. That morning I woke up and was a little stressed that I had not finished writing my vows so we had breakfast all together and then I said goodbye to Andy, we went our separate ways and I took some time to myself.
It was almost a feeling of disbelief. I couldn't believe that this was our day, the day that you think about since you were little and all the stress and planning and drama that had been happening for us to afford our wedding were all for this one day! (I hope that I am not freaking any new brides out here!) But it is very emotional, I didn't realize how much I would be feeling.
Reception
The reception was beautifully detailed, can you tell us what you loved about the reception set up and how you felt walking in?
Wow, it was so amazing to see everything come to life! I remember looking at how we had set up the different sections and how striking and magical it all looked in that villa with all the lights reflecting off the pool. It looked just the way I had pictured to be! Minus my chandeliers over the pool lol. It was just breathtaking and I don't think that anyone appreciated it more than I did. But one thing that I wished I could've seen, were the guest's reaction to seeing it! I hope that our videographers captured that for me.
Tell us a bit about your food and cocktail choices… we loved the 'shots before guests took their seats!'
To add a bit of light-hearted fun to the day, I created a few little signs that would make people giggle – The shots that we gave guests before they went down to the ceremony had a sign that read :
"Take a shot and take a seat because no great love story started by eating a salad"
Another sign we had set up was next to some fresh coconuts – "Put the rum in the coconut and drink it all up" We had a bottle of Malibu Rum that we had next to it so people could serve themselves and make it as strong as they preferred
The food choices were to cater to South Africans. We had eaten a lot of Indonesian food already on our trip so we kept it as close to home cooking as possible. I was also a bit worried that people might have had gastric issues from eating a new type of food, so I kept it simple. We ordered some canapés for guests following our ceremony. I have no idea what it tasted like as Andrew and I were busy with photographs, but my guests raved about it. I remember that I ordered the smoked duck and mango pizza slices and mini Moroccan lamb pies, I also had a vegetarian option and Indonesian shredded chicken sambal.
For the sit-down dinner, I had a set menu. We chose 2 main courses as we thought our guests would be hungry at that point and I did not really like the starter options. I gave my guests a choice of 5 dishes and they chose 2 ahead of time. I was extremely happy that the right meal was given to the correct guest! I know that we had a very small guest list of only 14 people, but I was still impressed by how smoothly dinner went – and my guests ate everything! My menu was: Salmon Fillet, Tiger Prawns, New Zealand Lamb Prepared Two Ways, Grilled Organic Chicken Breast, and Beef Rendang. All I can say is that I, at that point, could have eaten 3 plates of the chicken. It was seriously mind-blowing!
For dessert I never wanted a wedding cake as it's hot in Bali, people are usually full and no one eats the cake. So we decided on a Gelato cart. Everyone ate it and went for seconds. So I was happy that we made that decision.
For the cocktails, we put the Indonesian flavours. We had a tasting the day we landed so that we could choose the right combination of alcohol and flavour. I'm glad we did as in Bali, they use very natural juices and concentrates whereas, in South Africa, a lot of our cocktails are made using pre-made ingredients. We used flavours such as ginger, lavender, basil, and lime. They were very refreshing and packed a bit of a punch!
Any particularly funny moments from the reception that you want to share?!
Our wedding party was a bunch of hooligans so having dance-offs was the theme of the night. It was great though because it brought the vibe to a rather small wedding party. The few guests that we had that were more reserved, spent time having their caricature drawn and sat by the bar enjoying cocktails.
But the funniest part of the evening was definitely the drunken dance moves – we had Andrew's boss doing the dolphin across the dancefloor and Andrew's dad doing the Haka! I guess you can tell who has the wilder side of the family?! His best man had the garter on his head the entire evening and surprisingly, I did not land up in the pool with my wedding dress on.
Tell us about that amazing first dance – who choreographed this for you and how long did you practice for?
So we ran out of time to choreograph our first dance together. So literally 4 days before we left, I contacted my old dancing teacher – a Ricky Martin looking, flamboyant hottie to give us a routine. We spent 4 hours that day learning the routine and then we practiced for two nights following that.
It was Andrew's first time learning a choreographed routine so we did feel the nerves before our dance. We had not practiced since we arrived in Bali and just agreed that we would "wing it" if things started stepping on one another's toes. It went well… well except for the part where he stood on my train and I nearly fell on my face! But we got up and carried on. We blamed it on the floor being slippery and the shots his dad fed us.
It was to Senorita by Camila Cabello so it had a sexy, Latino vibe to it.
Wedding Planning / General:
Kylie was your Wedding Planner. Do you have any moment in particular that you had with her on the day that you would like to share?
Haha!!!!!!!!!! I can remember the group photos being taken and we were all just making a noise and running all over the place and Kylie had to raise her voice to the boys: "I have planned weddings of more than 50 people, and you lot are harder to manage than all of them!"
How did you find the process of planning a destination wedding – any tips for future couples?
The process goes quickly 3 months before your wedding. I planned way ahead of time and knew what I wanted. I sent a lot of pictures! I didn't want there to be any misunderstanding as to what I had envisioned in my mind. And from there, you spend a lot of time talking about how to achieve that and what needs to be compromised on. Let's just say that I wanted chandeliers hanging over the pool – I never got that L To set up a structure to support the weight was nearly impossible – not to mention how it would have blown the budget. You also change your mind on a few things as you go along. Originally I wanted draping and not flowers but it was difficult at my villa so we had to change the décor to flowers.
I would strongly recommend mood boards. It helped a lot in terms of showing vendors. Pinterest will be your best friend! For example, I wanted a very different type of bouquet – I wanted silver dollars to match my dress – no roses, no greenery. But they are called different names in different countries. So I had a picture – I wanted it exactly like that! The size, the color, the shape, everything. So it was imported and it looked the same! Without a picture – it would have been very difficult to replicate.
What is the one, single most memorable moment for you from your wedding day?
That had to be Andrew's face when he saw me for the first time. It just made me feel like I had chosen the right man. I have honestly never seen him so happy and so overwhelmed with emotions. He actually cried more than I did during the ceremony.
And just to add, I had been bawling the whole morning and he, who is usually the funny ones, was taking this very seriously. I was the one making people laugh! I was hysterical!
If you could sum up your wedding day in one word, what would it be?
Perfect
Is there anything you would like to add, in your own words, that we didn't touch on?
Our wedding probably ended at 3:30 am, everyone had gone to bed and just myself and Andy stayed up. We had swam after the vendors had left, we were having races on our floaties, drank more, and ordered pizzas… and then we ordered more pizza! It was a really nice venue to have a small wedding. Most of the wedding party stayed at the villa and it was so convenient. Traffic in Bali can be quite bad so this helped with transport and communication. It also gave us the opportunity to bond.
Small, intimate weddings are always a bit scary as you wonder if it will be bland with no vibe. I was worried that it would be like a formal dinner and that everyone would just go home after speeches. But if you find a venue that has the right layout and is the right size, your guests stay together and you create the vibe. Having my guests staying at the same villa also helped because then guests weren't worried about transport and drinking too much. It was a lot more relaxed for everyone.
We were in Bali for seven nights and it was too short. Rather extend your stay after the wedding, just the two of you. You need a break when it's all over! But the best thing about a destination wedding is that it isn't really over in just one day. It is a week-long celebration which is much better value for money. I think a lot of people blink and it's over and they are left thinking that all of that planning was for these few hours. We did a lot with our guests and have so many more memories for it.
Some of our awesome stories...