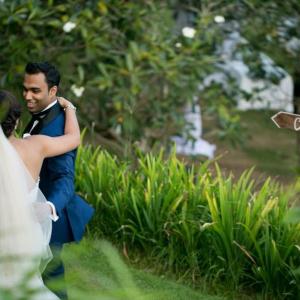 Sarita and Samuel married in Bali
Dearest Narelle and the team (Hayley, Michelle, Karrynn & Putu),

There are no words that could express how grateful we are for EVERYTHING youíve done for us. From the initial catch up, leading on to hundreds of emails back and forth together, planning every detail about our dream wedding which was executed to perfection. It literally was PERFECT! I personally was so impressed by the high level of professionalism by you guys but I also felt that it was such a close relationship that weíve bonded over the year and I will truly cherish every moment. I knew my vision for the wedding was a tough one but nothing was ever impossible with you guys and I felt so calm and ease throughout most of the planning and I knew I could trust you with everything. Narelle knew exactly the person I am and how high my expectation was for the wedding and at times she would pick something out for me that she knew I would love and made it happen for us. Everything was so well handled and organised to the tee that it seemed so seamless! I loved that Narelle surprised me on my wedding day as I didnít think she was going to make it to the wedding due to her other commitment and It was just such a lovely surprise! The setting of the wedding, the flowers, the food, the entertainment, the music, the photos, the wedding video the cake& pretty much everything was immaculate and it was so overwhelming to see my vision come to life and thatís everything a bride could ever ask for. And of course the actual venue for the wedding was literally HEAVEN!!! It was the most beautiful venue!

Thank you so so much from the bottom of our hearts for such a magical day. It truly was a fairy tale experience for the both of us and we honestly couldnít have done it without you. Thank you for being there for us each step of the way.
Sarita and Samuel's Bali Wedding Photos
See more of our wedding galleries...
Some kind words from our happy couples recently married overseas...