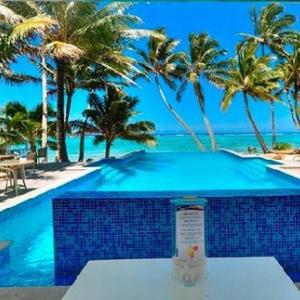 Destination Weddings at Little Polynesian, Cook Islands
Have you ever been to a place where you feel the wonderful magic of a deep connection and a greater sense of purpose as you make your very first entrance?

If so, then you will certainly appreciate regaining that rare and fulfilling sensation as you enter our intimate lodgings . If you have never had this feeling before then paradise awaits to surround your senses and lift your spirit at the Little Polynesian Resort - Rarotonga Cook Islands.

Imagine if you can, this setting: waves breaking on the horizon, a beautiful beach, a clear evening sky, a bed facing the ocean, a tropical balmy breeze, a smooth beverage of choice, a South Pacific song playing softly in the distance, an intimate yet elegant lodging and paradise just oozing at every turn. You have entered a world of romantic bliss; you have entered the world of Little Polynesian Resort in Rarotonga, the Leading Boutique Hotel of the Cook Islands (World Travel Awards 2008, 2009 & 2010) World Famous In the Cook Islands

What could be more romantic than saying "I do" at a beach or garden wedding at the Little Polynesian? Our spectacular sunsets and twilight evenings will make your wedding or renewal here, in the heart of the South Pacific, a very intimate and unique experience. Entrust your special day to us with one of our wedding packages and we`ll take care of all the details -- giving you more time to explore our beautiful islands. All you have to do is show up on the day.

shoes optional ...

An intimate sanctuary of romance set in serene seclusion
Little Polynesian in Cook Islands
Find your perfect wedding venue in Cook Islands with us...

Crown Beach, Cook Islands
Ridiculously romantic, Crown Beach Resort & Spa is located on the windless sunset coast of Rarotonga where 5 acres of tropical gardens and an en...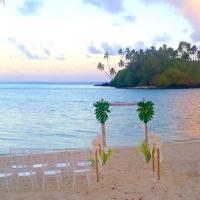 Nautilus Resort, Cook Islands
Nautilus Resort specializes in arranging exclusive events with a focus on island style wedding ceremonies and receptions. Offering a truly unique and ...
Some kind words from our happy couples recently married overseas...