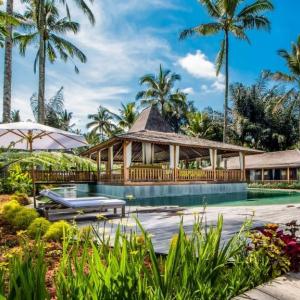 Destination Weddings at Nag Shampa, Ubud, Bali
Welcome into the heart of the balinese jungle!
​Quietness, refinement and serenity will be enchanting you at Nag Shampa Bali, Unique luxury Ubud VIllas.
Close to Ubud, center of the island and a city very well known for its medicinal virtues. Nag Shampa, nestled in the Indonesian forest, offers you an unexpected world close to a small and authentic village called Taro.
​From there you will be able to visit Bali, the island of Gods.
In between volcanoes, wonderful beaches, holy fountains and peaceful temples, Nag Shampa will be the first step to your journey.
​Breathe deeply and enjoy the serenity and peace of Mother Nature's sounds that will overwhelm you.
​Nag Shampa, your luxury Ubud villas, offers you gratitude, peace and fullness.....
Nag Shampa, Ubud in Bali
Find your perfect wedding venue in Bali with us...
Some kind words from our happy couples recently married overseas...