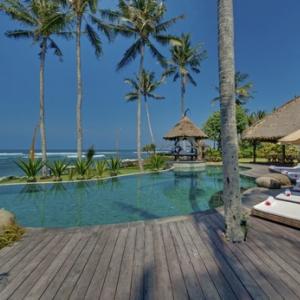 Destination Weddings at Villa Taman Ahimsa, Canggu, Bali
Welcome to Taman Ahimsa… a peaceful retreat by the sea!

Directly facing spectacular ocean sunsets, Taman Ahimsa retreat is a rare combination
of sustainable luxury based on the Balinese philosophy,Tri Hita Karana, thus creating a harmony among Human, God and Nature to be experienced in this "Garden of Peace." This eco-conscious ` retreat by the sea` is designed to enhance the gentle surroundings with the natural elements for a stay that is intended not only for a valuable holiday in Bali, but to create an organic, integral experience for contemplation, rejuvenation and nurturing among friends and family

Taman Ahimsa is located on Bali's southwest coast, within the beautiful agricultural belt between Canggu and Tanah Lot; an area that is home to some of the most luxurious private residences on the island. The approach to the retreat is along a quiet winding road through a traditional Balinese village. The narrow streets are bordered by rice fields and punctuated by holy banyan trees, and colourful temple ceremonies are a common sight.

Remarkably laidback and undeveloped, this tranquil out-of-town setting offers the double attraction of being relatively close to everything that guests might need, while also offering visitors a privileged insight into the traditions of rural Bali. The rugged beach is renowned for its world-class surf breaks. Glorious coastline views extend all the way down to Uluwatu on the island's extreme southwest peninsula, and the legendary sunsets here are among the best in Bali. The trendy Seminyak area, 30 minutes' drive away, offers a wide choice of international restaurants and elegant boutiques.
Villa Taman Ahimsa, Canggu in Bali
Find your perfect wedding venue in Bali with us...
Some kind words from our happy couples recently married overseas...